Jeremy's musical career began in canterbury cathedral…
Where he was Senior Chorister, and later studied music at Liverpool University. He spent five years as Music Editor at the Royal National Institute of Blind People, where he was responsible for transcribing print music into Braille.
In 1986 he joined EMI Records as a Literary Editor and from April 1990 combined his work as a Consultant Editor for EMI Classics and later Boosey & Hawkes Music Publishers with his career as a freelance conductor.
Book Jeremy for a concert
or a workshopMake Enquiry
Latest Video
"Over the years I have listened to a number of memorable performances of Mahler's 2nd Symphony (Solti, Abbado, Rattle …), but the Vivace Chorus concert under Jeremy Backhouse topped them all."Gunter Dombrowe
"A commanding and fearless conductor of impeccable technique and with a matchless ability to combine iron structural grasp on the grandest scale with a sensitivity to every expressive nuance and possibility."Francis Pott
"There's no questioning the care & sensitivity of Jeremy Backhouse's approach… it reaches the very heart of these deeply moving works."Gramophone
"It's been an honour to accompany the inspired musical direction of Jeremy Backhouse, one of the great unsung talents of the world of conducting."Jeremy Filsell
"…it is hard to imagine that it could be performed better than by Jeremy Backhouse and his superb choir."Musicweb International
"Jeremy Backhouse's excellent Vasari Singers performed it not just accurately, but with bags of heart & soul as well… sincere, intelligent & admirably."The Times
"What's most impressive is the extraordinarily careful pacing with which Jeremy Backhouse infuses Vaughan Williams's Mass in G minor."Jeremy Summerley
Latest Album
Jeremy's Choirs

Vasari Singers is one of the leading chamber choirs in London and the UK. Now established for over 40 years, the choir performs a wide range of repertoire with passion and sensitivity to exacting standards and considerable acclaim.
---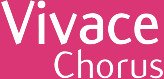 Vivace Chorus has come a long way since it began over 60 years ago as the Guildford Philharmonic Choir, gaining over time an enviable reputation for concerts of the highest professionalism that promote future classics.
---
Salisbury Community Choir is a thriving choir with a membership of almost 200. The choir fulfils a very definite need within the community for people who simply want to come together and share their love for singing. After 13 years as their Director of Music, Jeremy retired in the summer of 2022.